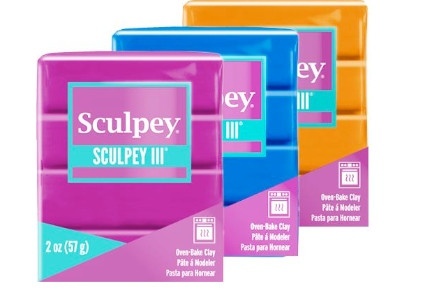 Sculpey polymer clays
Our Sculpey polymer clays are very well known by modeling enthusiasts. They allow the creation of jewelry, characters, miniatures, dolls, accessories,... Your only brake is your imagination, so let it run!
Sculpey modeling clay is a baking polymer clay. Its consistency is quite soft and therefore requires almost no kneading before shaping.
It is non-toxic and ideal for creative adults.
Sculpey Compounds are flexible, won't crumble or stick to your fingers.
It can be mixed, molded, sculpted, painted or varnished.
Once your creation has been made, simply put it in the oven for 15 to 30 minutes at 130°C. You will get a hard and solid object.
The metallic colors are particularly intense.
Available in 57g or 227g loaves.
Order your Sculpey modeling clay online at 123 Créa?
Buy with confidence: the modeling clays we offer are safe and meet strict compliance criteria (European standard EN71). Fast shipping and high availability of our customer service are important criteria for 123 Créa.
Are you hesitant about pasta for creative hobbies? Contact us!
For more information, contact 123 Créa in writing or by telephone. We will be happy to answer your questions.