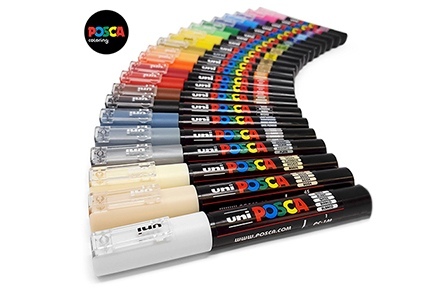 Posca Acrylic Marker
The Posca paint markers are felt pens suitable for any medium. They are permanent on all surfaces, except on glass and smooth materials. Posca markers are made from natural pigments.

The advantages of Posca permanent markers
Paint markers are particularly practical for your original creations. Discover their strengths:
Effective on all supports: more than fifty materials have been tested by the manufacturer, including around ten textiles: cotton, silk, linen, leatherette, etc.;
Indelible markers: except on glass and smooth surfaces, Posca markers are permanent, for the durability of your pictorial works;
Allow for neat work : Posca paint markers do not smudge paper (sheets, napkins);
Resistant to washing: keep the touch of originality on your clothes as you go through the washing machine.
Customize your textiles and other supports
Posca products can be used on many surfaces. 55 materials have been tested and approved by the manufacturer, including:
The paper: drawing paper, tracing paper, tissue paper, crepe paper, photo paper, raw cardboard;
The leather;
The textiles: cotton, denim, linen, silk, velvet, polyester, satin, nylon, hessian, synthetic carpet, ...< /li>
Latex, polyurethane foam, plastic packaging, plexiglass, polystyrene, PVC, aluminum, plaster, cement, concrete;
The tiles and natural stones: ceramics, glass, porcelain;
The Fimo modeling clay, salt dough;
The eggshells;
vegetable materials: wood (raw, melamine or chipboard), bamboo, cork.
How to use Posca markers?
Using a Posca marker is easy. Here's how to do it:
Prime your Posca marker: shake your marker firmly, until you hear the small ball clink inside. Press the tip several times on a sheet of paper, in order to soak it with paint. Through this preliminary test, you will be able to learn how to control the flow before starting your creation;
Press the push button. Press it as many times as necessary to soak your tip, for use on textiles or other support;
Depending on the type of support and its porosity, your line will be more or less refined. To avoid a blotting effect on delicate fabrics, trace the outlines first, before coloring the inside;
For optimal attachment to your clothes, wash the support before customizing it. Fix the colors by ironing the fabric on the wrong side;
Close the cap tightly after use.
Buy Posca brand supplies? Out of 123 Created!
Order your Posca markers online thanks to our e-commerce. The procedure is simple: select your favorite colors via your virtual basket. Finalize your order using your secure customer account. The delivery is free from 59 € of purchase. For any question relating to our items or your current order, contact us via our online form. We are available to answer you as soon as possible.