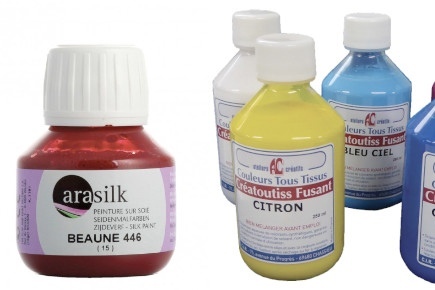 Thermoset silk paint
Dare the color on your clothes to customize! We offer a range of paints that set with heat (iron or oven) This melting paint is used on silk, wool, cotton and linen.
Create your personalized scarves, customize your t-shirts, shirts and other items of clothing! Give them a second life with heat-fixable paints. Designed for textiles, they are applicable on silk, cotton, wool and linen.
The advantages of heat-fixable paints
Heat-set products have many advantages for textile designers:
Easy to use, the paints spread less on the fabric than H Dupont paints. Their handling is less delicate and generates a back and a front;
Easy attachment: the colors simply attach to the iron or household oven;
Tie and dye pattern creations: create different gradient patterns or color spirals with the paints;
Water and light resistant : your original creations are resistant to washing;
Many creative possibilities: all colors can be mixed together. The medium is used to obtain pastel tones. Combine your color with H Dupont water auxiliaries.
How to use these colors for your creations?
Medium and white are used to create pastel tones. Perform a coloring and fixing test on a fabric sample.
To fix your color on fabric, you have two options:
Iron fixing: iron your support upside down, without activating the steam of the iron. Proceed for 5 minutes, or by placing a protective cloth between the iron and the paint. This method can be tricky for large pieces of fabric. In this case, it is better to use H. Dupont bakeable paints;
Fixing in the household oven: place your creation in a preheated oven at 130°C for 5 to 10 minutes.
Then wash your creation in lukewarm water with a non-aggressive soap. Rinse your piece of clothing in cold water.
Precautions for use for fabric paints
The colors are made based on pigments. To preserve your paintings, opened or not, store them at an ambient temperature of 5-25°C.
Do not allow a child under 3 years of age to handle the colors.
Create original garments with heat-fixable fabric paints
Order your favorite colors online. Our e-commerce offers a wide choice of references in 50 ml and 250 ml. Fill your virtual basket. Then log in to your account to proceed with the payment via one of the secure payment solutions available on the site. From 59 € of purchase, the delivery is free. For any question relating to your order of supplies for creative hobbies, please send us our duly completed contact form.</p >