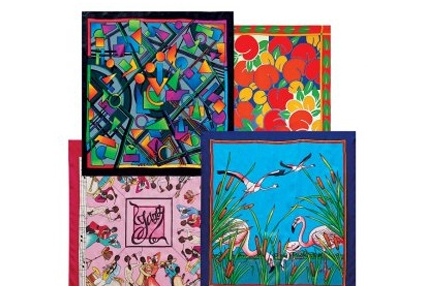 Painting card
Paintable cards are pre-drawn silk cards. They are sold in lots of 5. Several different themes are available for even more creations!
They measure 10 x 15 cm.
New to silk painting?
Paintable maps are made for you.
These cards are pre-set that will allow you to practice and get used to silk painting.
You will be able to appreciate the way the color reacts and fuses on the silk.
The designs were made with a pale gold water-set. The setting does the work of a outline.
The color will flow only within the limits defined by the setting (or gutta).
Each kit contains 5 silk pre-sets of 10x15 cm, 5 cards and 5 envelopes</ strong> and exists in 5 variants: Lily pack, Poppy pack, Sunflower pack, Christmas pack, Animal pack.
What are paintable maps?
The cards to be painted are silk postcards of 10 x 15 cm.
Illustrations are pre-drawn with pale gold color settings.
This setting will allow your silk painting to be controlled and limited. The color will not exceed the setting and will then remain well within its limit.
Why use paintable cards?
Beginners especially like paintable cards because they give a quick and clean result. These cards allow silk painting beginners to see how the paint reacts on the fabric. They can then control the use of the paint.
Choose from several different designs and themes (Christmas cards, floral cards, and also animals!
These cards can also be used for children under adult supervision.
How to use paint cards?
The cards to be painted are used in the same way as on normal silk, with the difference that the fabric is already pre-set, i.e. the patterns are already pre-drawn.
Paintable cards are used with silk paint. This attaches to the iron or microwave.
When the silk is well cooled and set, you can glue it to your card (front).
Need more information about this product?
Our team will be happy to answer you by email or by phone.