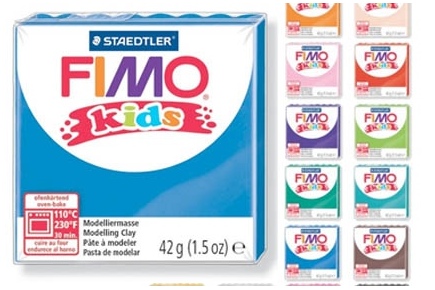 Fimo KIDS
Fimo modeling pastes meet all creative needs, even the earliest ones! The Fimo Kids range is accessible from 8 years old. Hardening when cooked, Fimo polymer clays create beautiful toys and durable objects.
Among the ranges of Fimo modeling clay, several are accessible to children from 8 years old. The Fimo Kids range goes further: particularly soft, it is easy to work with while remaining stable in its shape. Discover this ideal product with added educational value!
Easy to create toys, a whole world to invent!
Encourage your child's creativity by letting them create their own toys and figurines (animal or human). Replacing the purchase of ready-made figurines with their homemade modeling has many advantages:
Awakening game: to reproduce a pirate, a butterfly or a flower, you have to observe it, estimate its proportions. Modeling Fimo clay contributes to learning about the world around us;
Development of your child: handling Fimo clay develops the touch and fine motor skills of children's fingers. Feeling the texture, kneading, modeling, cutting, sculpting, flattening are necessary to obtain a satisfactory result;
Imagination and creativity: why strictly reproduce the real world, in its shapes and colors? Invent an imaginary creature, reproduce a nice monster or even a funny robot... Your child can develop a whole 3-dimensional imagination, thanks to the choice of colors and textures offered by Fimo Kids;
Promotes concentration: modeling Fimo clay is a personal activity requiring concentration;
Learning and self-confidence: your child learns from his unsuccessful attempts, and can only be enthusiastic to see his progress through unique modeling with Fimo Kids.
How to cook hardening modeling clay?
All polymer clays require the same firing process to harden and retain solid shape and texture. For safety reasons, be sure to accompany your child during the stages of placing in the oven and removing from cooking!
Here is how to cook the Fimo clay:
Lay out the objects and toys in their final form on an aluminum sheet or a silicone mould;
Place the insulating support on a baking sheet and put in the oven;
Cook in an oven heated to 110°C for 30 minutes;
Allow the cooked massages to cool before handling them.
How to store Fimo clay?
Fimo Kids modeling clays are packaged in quantities of 42 g. The bags are resealable in order to preserve the freshness and cleanliness of the Fimo clay. You can also place it in an airtight container so that it does not come into contact with air, dust or dirt.
Modelling dough for creative children: order online at 123 Créa
Select the colors of Fimo Kids modeling clay you want using your virtual basket. 24 references are available on the 123 Créa website. Log in to your customer account and choose one of our secure payment methods. The delivery is free from 59 € of purchase. A question about your current modeling clay order? Fill out our online contact form. We are available toanswer you as soon as possible.