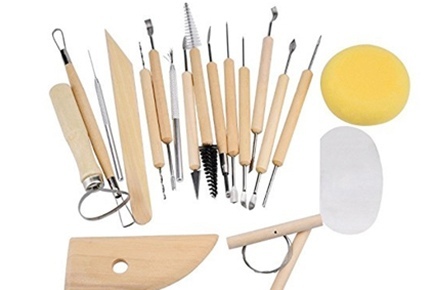 Accessories and tools
Discover all the essential tools and accessories to work with your polymer and self-hardening clays. Rigid or flexible blades, accessories, printing rollers, tools for small details, mica powders and even a paste machine! Here you will find everything you need to craft your ideas!

Tools to create endlessly
Mica
For a classic and chic touch on your creations, consider our micas. They will sublimate your creations once cooked or dry.
Silicone molds
Easily create shapes with Cernit silicone moulds. Very easy to use, fill your mold with self-hardening or polymer clay.
The molds are small, which will allow you to create beautiful details. Jewelry, details of a sculpture, but also pretty decorations for your sugar paste cakes. Let yourself be seduced by the magnificent rendering offered by these molds in the shape of hearts, flowers or butterflies!
Tools and dough machine
The essential tools for working your modeling clay. Flattening, hollowing out, smoothing, cutting,… everything is possible thanks to our selection of tools.
They are suitable for polymer clay and self-hardening clay.
Cookie cutters
For regular shapes, use our cookie cutters. Several patterns are available to satisfy your creativity!
Texture plates
To give life and relief to your creations, consider texture plates!
They offer a beautiful finesse, and a great sense of detail. The texture plates are available in 12 different patterns to apply on your self-hardening and polymer clays. Several printing techniques are available to you for a sublime rendering! In flexible rubber of 9 x 9cm, they are washable and reusable.
Why order your tools online at 123 Créa?
At 123 Créa, you buy with confidence: the tools we sell are safe and meet strict compliance criteria (such as European standard EN71). Fast shipping (within 24 working hours), and the availability of our customer service are all assets that make us successful in the community of creative art enthusiasts.</p >
Any questions or hesitations about accessories and tools for creative hobbies? We are here!
Do you want more information on the tools offered by 123 Créa? Contact our creative arts experts in writing or by phone. We will be happy to answer your questions, even the most technical ones.