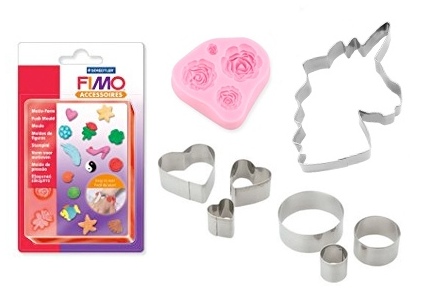 Tools, molds and punches
Create a multitude of shapes with our molds and cookie cutters.
You want to make regular shapes, consider cookie cutters.
You want to mold predefined shapes, use a silicone mold.

Cookie cutters
A cookie cutter will allow you to cut out a shape in a flexible material (modeling dough, salt dough, cookie dough, etc.).
You will obtain a clean and precise shape thanks to its slightly sharp edge.
At 123 Créa, you have the choice between various shapes, formats and materials…
Quickly discover our choice of Cernit and Fimo!
Silicone Molds
A silicone mold will allow you to create different shapes and patterns using your modeling clay.
Silicone molds are very flexible. Unmolding your creations will therefore be super easy.
Silicone molds will allow you to makeminiatures orprecise patterns. The molds are very detailed and easy to use for polymer clay.
123 Créa offers you molds of good quality. Don't wait any longer to discover them!