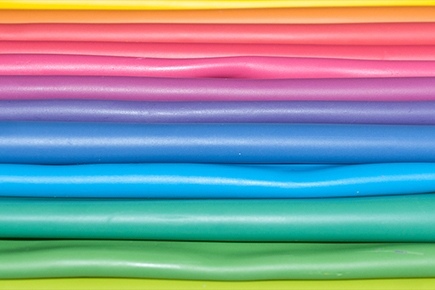 Polymer clays
123 Créa offers you different brands of polymer clay. Polymer clay is a modeling clay, which is baked. It is very popular for making jewellery, figurines,... Once cooked, the polymer clay is perfectly hardened and it is resistant over time.

How to use polymer clay?
Polymer clay is easy to model. To do this, heat the dough between your hands and knead your dough to make it more flexible. Once your dough has softened, work it with your hands or precision tools. The polymer clay comes in the form of bread of different weights. Small, medium or large. Once your creation is finished, put it in the household oven at 130°C. Please check the cooking time and recommended temperature on the packaging of your dough.
Once cooked, the dough is hard. You can then sand it, varnish it, polish it, paint it,... You can also keep it as it is.
What can I make with polymer clay?
You can make all kinds of creations with polymer clay:
Original jewellery: bracelets, pendants, earrings, brooches, gourmet jewellery, etc.
Human figurines, manga, cartoon character and also animals of all kinds, realistic or not

Accessories and decorative objects : cutlery handles, precious stones (cabochons), …
Millefiori : this ancestral technique is of Italian origin ("thousand flowers") and comes to us from master glassmakers
Key rings, name tag, storage compartment...
Thumbnails
Order your polymer clay now on 123 Créa and enjoy many advantages.
Need more information about polymer clay?
Our team is at your disposal by email or by phone.