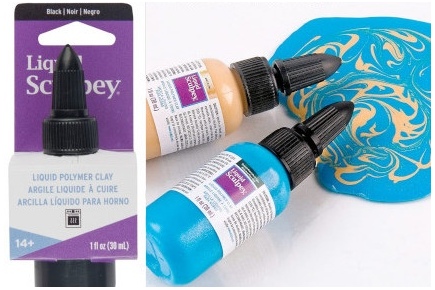 Sculpey Liquid
Use Sculpey Liquid for a variety of techniques! Fill in the details of your creations, make decals,…
Liquid Sculpey
Use Sculpey Liquid to:
• Create elements that remain flexible when fired. Fill the hollows with a textured polymer clay using a stamp or a texture plate.
You can color this liquid with alcohol inks, dry pastels , a little acrylic paint or special stained glass paint.
It is perfect for using silicon mouldse.
To finish your creation, all you need to do is bake it for 20 minutes in a preheated oven at 130 degrees.
• Transfer photocopy images and drawings. To make decals.
Simply spread a thin layer of liquid Sculpey over the image, bake as directed above. Remove from oven, soak in water for 5 minutes. Remove the paper with your finger, rubbing lightly.
If using a silicone mould, heat it empty to 130°C for 15 minutes before pouring in the Sculpey Liquid. Then cook for 15 minutes at 130°C.