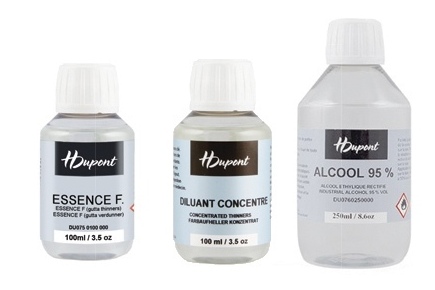 Thinner - Gasoline - Alcohol
These aids will allow you to better manage your coloring with silk painting.
Concentrated thinner is your ally for achieving clean, halo-free bottoms.
95% alcohol will allow you to dilute your colors by mixing it with your H Dupont paint, alter ego or plume & flowers. It is also used pure, to bleach or attenuate the colors of painted silk, before steaming. Also use alcohol to create effects and gradients!
Essence F, will allow you to dilute the essence-based settings when they are too thick, it is also used to erase the colorless N setting after fixing.< /p>