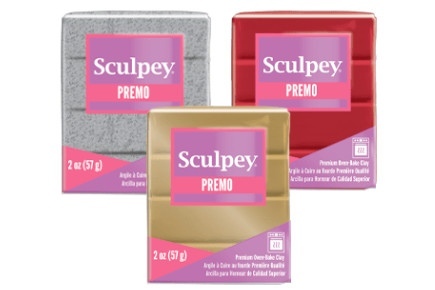 Sculpey Premo
Premo paste, thanks to its flexibility and remaining firm, is used to achieve fine details. It is ideal for making your millefiori canes. This range is primarily aimed at adults.
Premo paste is a dream'an artist come true!
This clay is flexible and light enough to be easy to work with. It remains firm enough to retain the fine details. It is perfect for making your canes. It retains its flexibility, the finished product remains very strong and durable.
It is available in 57g and 227g loaves (white and dark only).
How to use it?
This polymer clay can be cut, sculpted, rolled, painted, etc.
It will need to be baked in a traditional oven preheated to 130°C between 15 minutes and 30 minutes.
Do not put it in the microwave.
It keeps very well in a cool place away from light.
Its strengths
- Does not crumble.
- Does not stick to fingers.
- Easy to mix.
- Mixable colors.
Why order your modeling clay online at 123 Créa?
At 123 Créa, you buy with confidence the modeling clays we sell are safe and meet strict compliance criteria (such as European standard EN71). Fast shipping and the availability of our customer service are all assets that make us successful in the community of creative art enthusiasts.
Any questions or hesitations about pasta for creative hobbies? We are here!
Would you like more information about the modeling clays offered by 123 Créa? Contact our creative arts experts in writing or by phone. We will be happy to answer your questions, even the most technical ones.