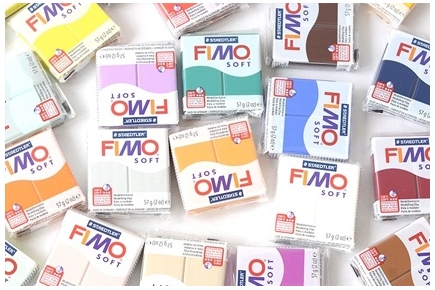 Fimo modeling clay is generally used for the creation of beads, small decorative objects, figurines, etc. It comes in several collections, miscible< /strong> between them.
Discover our different ranges of Fimo modeling clay:
About polymer modeling clay
These are modeling pastes that must be cooked. Your traditional oven will do just fine. These references are among the best known: Fimo, Cernit and Sculpey.
Polymer clays, or Plastisol, are pastes obtained by mixing powdery synthetic resin and liquid plasticizer, to which mineral fillers are added< /strong> and pigments. The plasticizer is recommended by the European Union for toys.
Polymer clays are formulated in the same way and are miscible with each other.
They are non-toxic and their main differences are: their consistency, their color opacity, their flexibility after cooking.
Advice for use
For proper use of your Fimo polymer clay, you must first knead it, which will make it more flexible. You can work it with your hands or the dough machine.
Once softened, start creating jewellery, figurines, decorative objects, etc.
Texture plates, moulds, cutters -parts, small tools, etc. All these accessories and tools will help you personalize your creations</strong >.
Your polymer clay must be put in the oven in order to be definitively hardened.
Fimo recommends baking at 110°C for 30 minutes. However, based on our tests, we advise you to bake the Fimo clay at 130°C for 30 minutes. The polymerization will be better and your realization will be more resistant. Then, take it out of the oven and let it cool down.
(it can't go in the microwave)
After that, the polymer clay will be water resistant .
We advise you to use gloves when using Fimo clay. Also be sure to wash your hands thoroughly after use and between two colors so as not to have color transfer.
Why choose Fimo?
Fimo are the most famous polymer modeling clays. They have a pleasant consistency and are very opaque.
After cooking, Fimo clays are hard and resistant. They remain hard and very inflexible.
Fimo clay comes in many colors and textures.
Why order your modeling clay online at 123 Créa?
On 123 Créa, you buy with confidence: the modeling clays we sell are safe and meet strict compliance criteria (such as European standard EN71) . Fast shipping (within 24 working hours), and the availability of our customer service are all assets that make us successful in the community of creative art enthusiasts.</p >
Any questions or hesitations about pasta for creative hobbies? We are here!
Would you like more information about the modeling clays offered by 123 Créa? Contact our creative arts experts in writing or by phone. We will be happy to answer your questions, even the most technical ones.