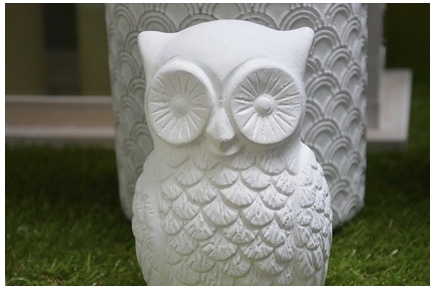 Casting plaster
Casting plaster is a powder to be mixed with water. The result is very solid and very thin!
Molding plaster is also called plaster of Paris. Once mixed with water, it hardens quickly to give a solid and fairly fine result.
For many years, it has been used to make a multitude of decorative objects , such as molds, castings and statues.
You will be able to clean, chisel and treat your plaster sculptures. This will give them the appearance of stone, bronze,…
It is also possible to give the cast plaster a finish that imitates porcelain or terracotta.
The amount of water you will add during preparation of your cast is very important. If you put too little, the result will crumble and crack easily. If you put too much, your creation will be porous and fragile.
Plaster objects are kept inside. Outside, rain and bad weather will damage them.
Features
• White powder.
• Air dries.
• Release after about 30 minutes. Total hardening between 2 to 24 hours depending on the thickness.
• After complete drying, you can paint your creation with Darwi acrylic paints.
Apps
• Pour 4dl of cold water over 1kg of Darwi Form and mix well. The water should be completely absorbed.
• Use the mixture within 10 minutes of mixing.
• It is best to moisten your casting form before pouring the mixture into it.
• In order to avoid the formation of bubbles, you can mix during pouring (with a small stick).