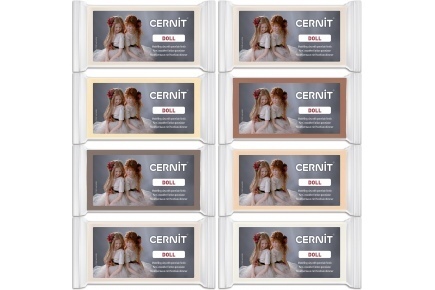 How to use Cerni Doll modeling clay?
The Cernit self-hardening modeling clays are available in several ranges, each offering a specific rendering With their porcelain finish , the colors of the Cernit Doll pastes are really very realistic. You will be able to create dolls and statues more real than life.
This depth effect is given by the very slightly translucent side of the Cernit Doll.
Once made, bake your original creations on a baking sheet and cook in the oven (not in the microwave) for 30 minutes according to a temperature between 110°C and 130°C.
The advantages of modeling your miniatures with Cernit clay
Find out what features make Cernit modeling clays a must-have for creative people:
Cernit paste does not stick to the fingers, which makes it easier to handle;
The modeling leaves no trace of color on the fingers, no need to wash your hands between each color (except: black and red X-mas which run very lightly)
After firing, obtain an even shinier effect by polishing your creation;

The Cernit Doll range comes in a range of very realistic colours.
The Cernit Doll is available in 500g bread in 7 colours.
Order your modeling clay online at 123 Créa
Buy with confidence at 123 Créa. Our polymer products are of high quality and comply with European standard EN71. Make your purchases via your virtual basket. Log in to your secure account in order to make the payment. Shipping is fast and our customer service team is working hard to accommodate your requests.
Any questions about our baking modeling clays? Do not hesitate to contact us!
Whether in writing or by telephone, we will be happy to answer your questions.