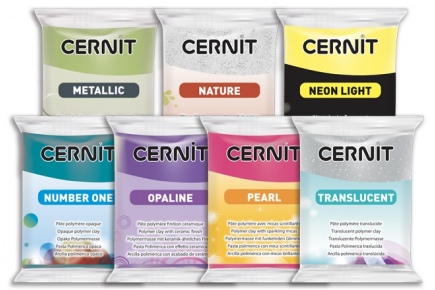 Cernit polymer clays
Cernit modeling pastes give your figurines and jewelery a very pretty porcelain look. Hardened after cooking, they keep over time. Discover our different ranges!

Among our hardening modeling clays for creative hobbies, the Cernit brand offers a shiny effect, similar to porcelain. The brilliance of Cernit becomes inimitable after polishing. It is available in several ranges, miscible with each other, for different results.
Explore the subtleties with our online store!
The benefits of Cernit modeling clay
The Cernit brand complies with the standards in force. See its qualities:
It does not stick to the hands, does not stain them. No need to rinse your hands after each color;
Very malleable, Cernit is easy to work with;
Cernit is non-toxic, does not contain phthalates or substances suspected of being hazardous to health;
Water resistant after cooking;
Cernit can still be worked after firing: it can be polished, varnished, sanded, etc.
Available in a wide range of colors and textures.
What to do with Cernit modeling clay?
Use Cernit modeling clay for the following creations:
Original jewellery: bracelets, pendants, earrings, brooches, gourmet jewellery, etc.
Human or animal figurines;
Accessories and decorative objects : cutlery handles, precious stones (cabochons), …
Millefiori : this ancestral technique is of Italian origin ("thousand flowers") and comes to us from master glassmakers;
Etc
How to work your polymer modeling clay?
Cernit modeling clay is available in 56 g, 250 g and 500 g bars. Cernit is easy to model, without the need for lengthy mixing. Work it with your hands or precision tools.
Like Fimo, which is also a polymer modeling clay, Cernit hardens after baking in the oven (and not in the microwave!). Bake your creations for 30 minutes in an oven heated to 130°C.
Although the Cernit clay is non-toxic and does not stick to the hands, an adult must nevertheless be present when placing the figurines to harden in the oven. Also watch the cooking output.
Order a wide choice of Cernit modeling pastes on 123 Créa!
Order your polymer clays online. Our online store also has accessories and modeling tools. Select the desired references using your virtual basket. Finalize your purchases by logging into your account and using one of our secure payment methods. The delivery is free from 59 € of purchase. For any questions regarding your current order, please fill out our contact form. We are available to answer you as soon as possible.
<div id="ConnectiveDocSignEx