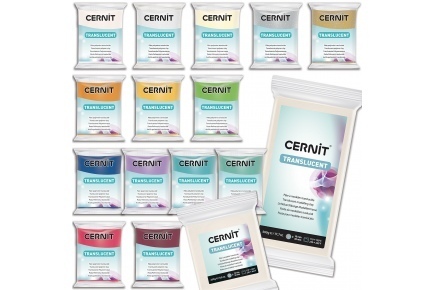 Cernit Translucent
Cernit Translucent paste will give your creations a very beautiful translucent finish. Ideal for making jewelry, it will give your creations a refined and magical translucent effect.
Make beautiful jewelry with Cernit Translucent modeling clay
The Cernit brand modeling pastes offer a very beautiful porcelain finish to your creations (figurines, decoration, etc.) .
Ideal for making jewellery, the Cernit Translucent range will appeal to craftsmen and individuals alike.
It is the most translucent modeling clay > polymer clays that we offer. Quickly discover its beautiful transparency effects!

Once your modeling clay creations have been made, all you have to do is bake them for 30 minutes in the oven between 110°C and 130°C</strong >.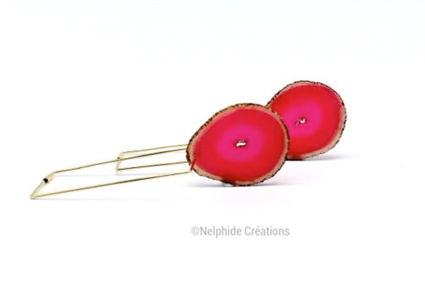 The benefits of using Cernit modeling clay
The Cernit paste, intended for creative hobbies, has many advantages for users, whether beginners or experienced:
Cernit does not stick to the fingers, which makes it easy to model;
It leaves no trace of color on your fingers. Switch from one color to another without washing your hands (except black and X-mas red, which bleed very slightly);
Work your Cernit modeling clay after baking: by polishing your baked modeling clay objects, they will become very shiny;
The Cernit Translucent range is available in a very wide range of colors, enough to give free rein to your imagination;
Cernit paste is ideal for modelling and creation of jewellery.
The Cernit Translucent range is available in loaves of 3 different sizes: 56g / 250g / 500g. It is available in ten colours.
Order your Cernit Translucent paste online at 123 Créa?
Supply via our online store with full confidence: the modeling clays sold by 123 Créa are safe and meet strict compliance criteria (such as the European standard EN71). In addition, we ensure fast shipping and our customer service team is very available.
To order, simply select the desired references via your virtual basket. Access your secure account and pay for your purchases using one of our online payment methods.
Any information about our modeling clays to be baked in the oven?
For more information on the modeling clays offered by 123 Créa? Contact us in writing or by phone.