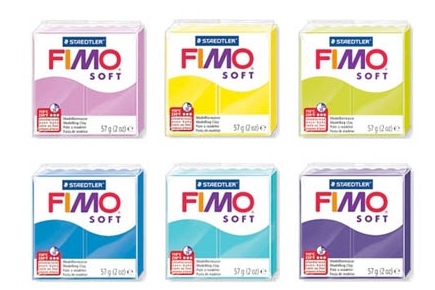 Fimo Soft modeling pastes
The Fimo Soft modeling clay is flexible and easily malleable. It is suitable for beginners, children from 8 years old and regulars who appreciate its texture. Once baked, Soft polymer clay retains its rigidity.
Fimo clays are polymer modeling clays, which harden while baking. Among the different types of Fimo clay, you will find on this online store the Fimo Soft clay.
The advantages of flexible Fimo clay
The Fimo Soft range is well suited for the following creatives:
Beginners, who can obtain beautiful results with a very malleable, easy-to-model clay;
Children, from 8 years old, accompanied by an adult in their creative activity. Pay attention to the steps of putting in the oven and taking it out of the oven;
The regular fimotors who appreciate a flexible material.
Sculpt your desires! Soft modeling clay is suitable for many purposes:
Constitution of Fimo canes, easy to slice with a cutter;
Creating modeling clay jewelry;
Creation of small decorative objects born from your imagination;
Etc
Thanks to this versatility, Fimo Soft clay is the most frequently used. We offer it in 57 g bread.
Personalize your modeling clay creations: thanks to a wide range of 35 colors available on this site, you can reproduce realistic many objects and decorative elements.
How to use Fimo Soft modeling clay?
See our few tips to benefit from all the qualities of your soft modeling clay:
Knead your polymer clay to soften it until you get the desired texture;
Play with sources of heat or cold, radiator or fridge, to soften or harden your raw material.
The Fimo Soft modeling clay keeps for a long time after opening. Store it in an airtight container to prolong its intrinsic qualities.
How to cook your Fimo modeling clay?
The polymer clay is baked on a baking sheet covered with parchment paper or a silicone support to insulate your figurine from the heat.
All Fimo clays require the same cooking. Count 30 minutes in the oven at 110°C. Once cooled, your figurine is hardened and solid, even made of Fimo Soft clay. It is also water resistant.
For small items, less cooking time will be sufficient. A plasticine fruit tart, for example, will be baked after 15 minutes, its format being flat.
Want to supply yourself with Fimo Soft pasta? Order online at 123 Créa
Our e-commerce allows you to purchase modeling clay and accessories in an intuitive way. Choose the desired products and quantities using your virtual basket. Confirm your selection and log in to your customer account. Finalize your purchases using one of thesecure payment methods available online. Note that the delivery is free from 59 € of purchase. For any question regarding your current order, please fill in the fields of our online form. We are available to answer you as soon as possible.