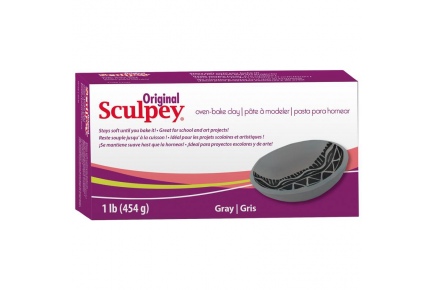 Sculpey Original
Sculpey Original Polymer Clay is ideal for sculpting.
Soft and flexible, it is easy to use for everyone.
Sculpey Original Polymer Clay has been used for generations by everyone:kids, parents, teachers.
Sculpey Original is soft and flexible. It is used like ceramic clay but does not dry out in the open air.
You have to cook it to finalize your creations and make them solid. After that, you can sand it, drill it, carve it or even paint it with acrylic paints (water-based). You can also varnish it.
Discover the endless possibilities that this polymer clay offers you.
Sculpey Original polymer clay remains an inexpensive way to let your child explore their creativity.
Any questions? Do not hesitate to contact us!
Would you like more information about the polymer clays offered by 123 Créa? Contact us in writing or by telephone. We will be happy to answer your questions.