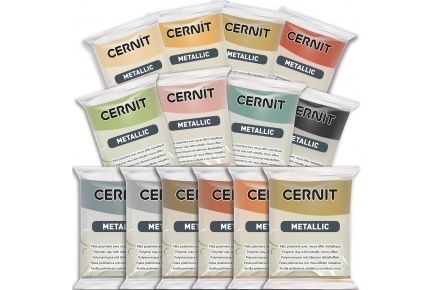 Cernit Metallic
Discover the brand new range of Cernit polymer clay:Cernit Metallic!
They offer a unique result thanks to the new formula used!

Like any new range, these pastes are more flexible than average and need to be dégorger depending on techniques used.
A range with exceptional metallic effects.
After comparison, Cernit Metallic pastes are, without a doubt, the most beautiful on the market.
What are the special features of Cernit Metallic modeling clay?
The new range of Metallic colors offers an impressive choice of metallic colours.
In fact, you will discover in this range classic colors such as copper, bronze, silver and gold , but also more surprising colors such as rust, steel, pink gold, green gold,...
These new colors allow many creations, especially in terms of fantasy jewelry more real than life.
The advantages of polymer clay
Polymer clay is easy to mold and sculpt. It offers a multitude of possibilities.
The dough is baked in a household oven at 130°C for 20 min. After baking, it is hardened but slightly flexible, which makes it possible in particular to create pretty bracelets that will not break not.
After firing, the paste can be sanded, varnished or polished, which will give a beautiful shine to your creations.
Cernit Metallic pastes are miscible with each other, you can create new colors or create even more effects by mixing your pastes!
Cernit paste does not stick and does not leave colors on the fingers.
Why buy Metallic clay at 123 Créa?
We offer quality service and your satisfaction is our priority, which is why we offer fast and secure service.
You can pay for your purchases safely thanks to our secure payment platform.
The delivery is fast and neat. We offer the possibility of having you delivered to your home or to a relay point.
We are at your disposal to best answer your questions and your requests by email or by phone.