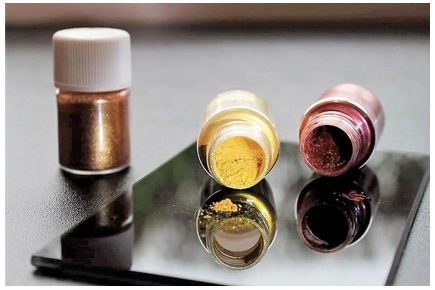 Sparkling - Mica Cernit
Sparkling are effect mica powders. To be applied on raw polymer clay, all you have to do is cook your creation to finalize it.
Discover the surprising results of our different Sparkling!
We offer several different collections of the Cernit brand: Duos, Diamonds, Metallic, Interferences< /strong>.
And also a small collection of the Fimo brand: Gold or Silver.
The powders can be applied on raw polymer clay , with a brush or finger.
What is mica?
Micas are minerals. Mica powder is made of mica, a mineral from the silicate family. It is one of the constituents of granite.
Characterized by its flaky structure, mica gives shape to glitters.
The word mica comes from the Latin micare< /i> meaning to shine, to sparkle.
Its use as a substitute for gold dust has caused it to be called "cat's gold".
Very heat resistant.
Sparkling powder is to be used on Cernit, Fimo or Sculpey polymer clays.