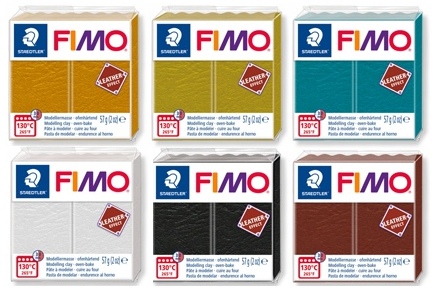 Fimo Leather Effect modeling pastes
Fimo Leather Effect modeling clay is, like Fimo Soft, flexible and easily malleable. It is suitable for all users, whether beginners or accustomed to its texture. Also suitable for children from 8 years old. After baking, the Fimo Leather Effect polymer clay will retain its rigidity.
The pastes from the Fimo range are polymer modeling clays. They harden when baked.
The Fimo Leather Effect clay sold on this online store is part of the Fimo polymer clay family.
Advantages of Fimo Leather Effect
The Fimo Leather Effect range is well suited for any creative:
beginner who will obtain beautiful results with this malleable and easy to model clay
children, from 8 years old (accompanied by an adult in their creative activity - Pay attention to the cooking stages)
regular fimotor appreciating the flexibility of this material
Sculpt as you wish! Fimo Leather Effect modeling clay is suitable for many uses:
Creation of Fimo canes, easy to slice with a cutter
Making jewelry
Creation of decorative accessories with leather or faux leather effect
Etc
Fimo Leather Effect is as easy to use as Fimo Soft.
We offer it in 57 g bread.
Personalize your creations: thanks to a wide choice of 12 shades available on this site, realistically reproduce many objects and elements decorative with leather or faux leather effect.
Using Fimo Leather Effect polymer clay?
Here are some tips to appreciate all the qualities of your Fimo Leather Effect modeling clay:
Knead the polymer clay until you obtain the desired texture in order to soften it
Test heat or cold sources (radiator or fridge), in order to soften or harden your polymer clay.
Fimo Leather Effect polymer clay can be kept for a long time after opening. Just store it in an airtight container to prolong its qualities.
Cooking Fimo Leather Effect modeling clay?
The polymer clay is baked on a baking sheet covered with parchment paper or even a silicone support (to insulate your creation from the heat).
All Fimo clays are cooked in the same way: 30 minutes in an oven at 110°C.
Once cooled, your creation will be hard and strong. It will resistance to water.
For small objects or for thinner objects, a less cooking time will be sufficient.
Order your Fimo Leather Effect online at 123 Créa
Our e-commerce makes it easy to shop for modeling clay and accessories. Choose the desired products and quantities via your virtual basket. Validate your choices and connect to your customer account. Finalize your purchases using one of thesecure payment methods available online. The delivery is free from 39 € of purchase. To any questions regarding your current order, please complete our online form. We will answer you as soon as possible.