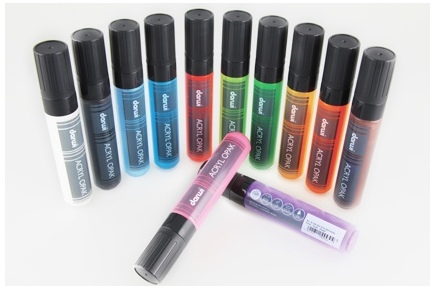 Darwi Acryl Opak acrylic marker
Darwi Acryl Opak acrylic markers are formulated with water. They are ultra covering and ready to use. It's your turn!

The colors of Darwi Acryl Opak markers are ideal for decorating all types of surfaces such as wood, terracotta, plaster, cold porcelain, polymer clay, etc.
Darwi Acryl markers are very resistant to water and light and remain indelible after drying.
Available in 1mm, 3mm and 15mm nibs.
30 matt colours, intermixable.
Tip: to make a gradient, apply 2 colors close to each other and blend with your finger .
Precautions for use
When using for the first time, shake the felt pen vigorously and start its tip. Then, it will be enough to shake the felt well before use.
Wait 24 hours for complete drying.
Wash the equipment with water.
Hold and store horizontally.
Any other information? A question?