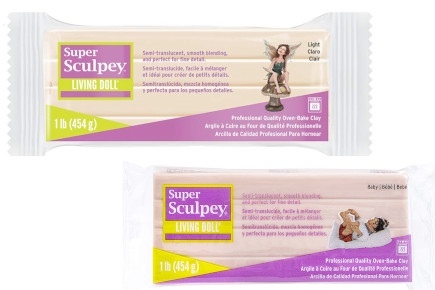 Super Sculpey Living Doll
Super Sculpey Living Doll polymer clay is ideal for making figurines and dolls.
Super Sculpey Living Doll is a professional quality clay.
It is easy to blend, shape and has a smooth and firm texture.
Super Sculpey Living Doll can be easily sculpted, drilled, painted or cut.
Its finish is semi-transparent after firing, making it ideal for creating dolls and small characters.
Buy polymer clay online at 123 Créa
Buy with confidence at www.123crea.eu. The polymer clays we sell are safe and meet strict compliance criteria (such as the European standard EN71). Make your purchases safely through your account and one of our online payment methods. The fast shipping and high availability of our team are all assets that make us successful in the creative art community.
Any questions?
Do not hesitate to contact us in writing or by phone. We will be happy to answer your questions.