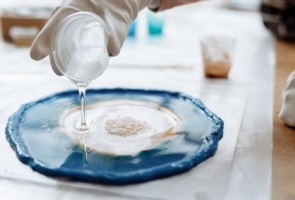 Resin
Want to get into resin creations? At 123 Créa, we offer the right equipment to get you started. Resin, mold, glitter for inlay, ink,...
Epoxy craft resins let you create endlessly! Figurines, trays, jewelry, coasters, decorations,... Easy to use, resin is THE trend of the moment!

Epoxy resins
The epoxy resin gives a beautiful finish to your creations. No need to sand it, the epoxy resin is shiny and will protect your creation.
You can also use it in molding, it will then take on the texture of the mold used (for example: the surface will be matte if you cast your resin in a Cernit silicone mold).
Order online at 123 Créa…
On 123 Créa, choose your products easily, from your home.
We will quickly ship your order.
Do you have any questions before confirming your order? Do not hesitate to contact our customer service, we will be happy to help you.