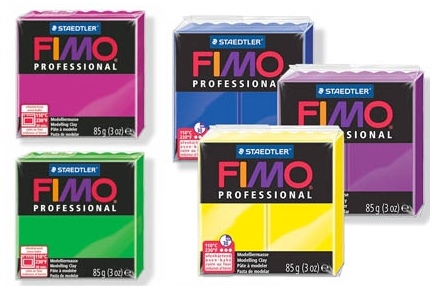 Fimo Professional modeling pastes
The Fimo Professional paste now replaces the classic Fimo paste. Of excellent quality, this range is primarily aimed at adults and professionals. It is recommended for the creation of cane, because it holds very well. Come and discover its many colors without delay!
The Fimo Professional paste is of professional quality, it is intended above all for adults.
This polymer clay is recommended for cane creation because it holds together very well. Premium quality for exceptional results!
True colours using the purest pigments for a shimmering result.
A test!
Useful data
24 vibrant colors
Recommended quality for specialists, experts and artists
Flexible and malleable
Use under adult supervision
Use gloves or failing that, wash hands thoroughly after use
Cook in the oven for 30 minutes between 110°C and 130°C
Why order your modeling clay online at 123 Créa?
On 123 Créa, you buy with confidence: the modeling clays we sell are safe and meet strict compliance criteria (such as European standard EN71) . Fast shipping (within 24 working hours), and the availability of our customer service are all assets that make us successful in the community of creative art enthusiasts.</p >
Any questions or hesitations about pasta for creative hobbies? We are here!
Would you like more information about the modeling clays offered by 123 Créa? Contact our creative arts experts in writing or by phone. We will be happy to answer your questions, even the most technical ones.