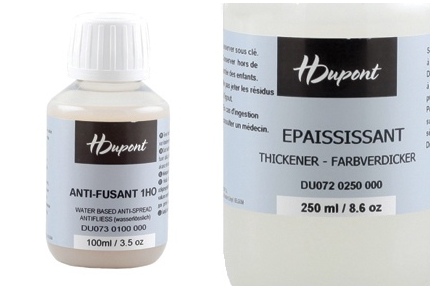 Antifuse - Thickener
These auxiliaries will allow you to create different effects on your silk painting.
The thickener (or printing paste) will be your ally to easily thicken your colors. With a pasty consistency, the thickener mixes with the classic H Dupont, Alter Ego or deco reco color to make the color thicker, so it will no longer fuse.
The anti-fusant, water-based or alcohol-based, closes the pores of the silk and ensures a work without setting. The antifusant is applied to the white silk, you can then work on your silk as on a canvas. The colors will not fuse, which will allow you other techniques.