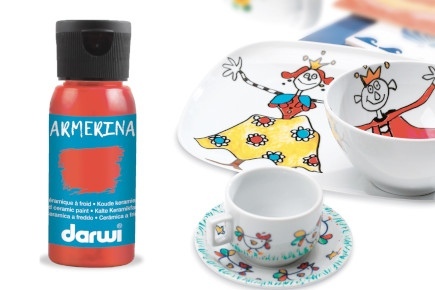 Porcelain and ceramic paint Darwi Armerina
The Darwi Armerina colors are a range of 18 extremely bright colors designed for the cold decoration of porcelain and ceramics.
You can use the colors on tiles, terracotta and glass. Have fun unleashing your creativity with these fantastic colors!
Darwi Armerina colors for < span>ceramics and porcelain dry in the open air, without firing. The Darwi Armerina colors are offered to you in 30 ml bottles and available in 18 very brilliant colors, all of which can be mixed.

The colors are very intense and can be diluted with the appropriate medium, for fluid and transparent colors.

Characteristics

of colors

Armerina:



Very fast drying

Very shiny after drying

High lightfastness

Dishwasher safe (minimum after 48 hours of drying)

</ li>

After use, wash all equipment with water

Non-food product intended for decoration

Usable with stencil and sponge stamp
Suggestions for use



Discover our range of Darwi Armerina markers!