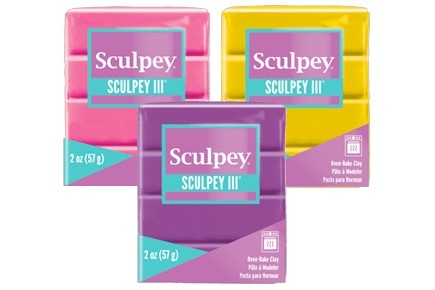 The Sculpey II polymer clay is perfect for beginning and to familiarize yourself with the various possibilities that polymer clay offers.
This type of polymer clay is specially designed to allow you to develop your skills and create the shapes and achievements you desire.
Perfect for beginners
Ideal for beginners, crafters, children
Soft and malleable texture
Stays soft until cooked
Does not dry out
Can be painted, sanded, drilled and carved after baking
Easy cleaning
Wide variety of colors
Explore all of its abilities and benefits, including:
Ideal for beginners, general crafters, and kid/parent projects due to its soft, easy-to-use texture.
Clay will stay soft until baked.< br />Extra clay can be stored and reused - won't dry out!
Once cured, clay can be painted, sanded, drilled and sculpted.
Easy clean up!
>Explore our Sculpey® III color list below and order yours to get started today.
Questions or hesitations? We are here!
Would you like more information about the modeling clays offered by 123 Créa? Contact us in writing or by telephone. We will be happy to answer your questions.