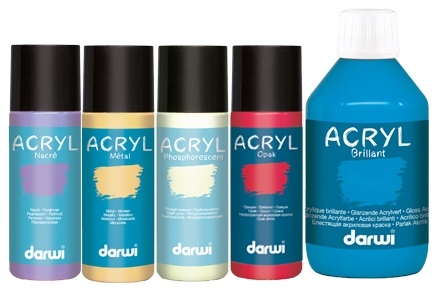 Darwi Acryl acrylic paint
Darwi acrylic paint is extra-covering, it is indelible once dry.
This superior quality paint can be applied in several techniques: with a brush, a stamp, stencils.
How to use Darwi Acryl acrylic paint?
It is important to shake your bottle or stir the paint before you start painting.
You canapply your Darwi paint with a brush, stamp, sponge,...
Achieve different effects by mixing your colors, creating gradients, diluting your paint with water. You can apply the paint in a thin layer by diluting the color or in a thick layer. The drying time will be different depending on the thickness of your layer.
As soon as your creation is finished,clean your brushes immediately with water so that the paint does not dry in the bristles of your brushes.
What are the different effects of darwi paint?
The Darwi Acryl range is available in:
The paint is available in 50 ml, 80 ml and 250 ml bottles.
Need information on products from the Darwi Acryl range?
Our team is at your disposal to answer by email or by phone.