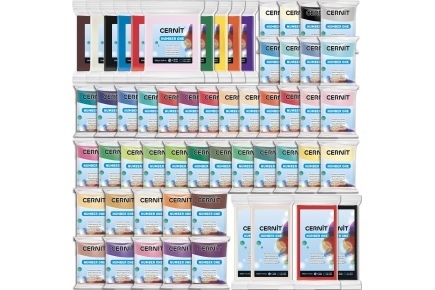 Cernit Number One
Cernit Number One is an excellent quality polymer clay. Thanks to its beautiful palette of 40 mixable colors, you will be spoiled for choice for your original creations. Quickly choose the ones you like below!
How to use Cernit Number One modeling clay?
Let your creative speak for you by using Cernit modeling pastes. Among the different ranges and textures, the Cernit Number One is the most versatile! Whether you are an amateur or experienced craftsman, a fan of manual activities or you like to tinker with your children, you will find pleasure in using these polymer clays.
Your modeling pastes are intended to be cooked. All you have to do is put them in the oven for 30 minutes at 130°C to give them their final texture.
Your creations will be very hard and, unlike other polymer clays, will remain flexible. This can be decisive, for example, when making jewelry that needs to be flexible (bracelet, choker, etc.). This characteristic makes it more practical than another paste, like Fimo, which would break because it is more rigid.
The benefits of Cernit Number One paste
Why choose to model your creations with the Cernit Number One? See its strengths:
Cernit paste does not stick to your fingers, which makes your work easier;
It does not leave a trace of color on your fingers, so you can switch from one color to another without washing your hands (except for black and red X-mas which rub off very slightly);
After firing, you can drill it and then polish it, which will give it a very shiny effect;
It comes in a very wide range of colors, enough to give free rein to your imagination!
The Cernit Number One range is available in 3 different sizes: 56g / 250g / 500g.
Why order your modeling clay online at 123 Créa?
On 123 Créa, you buy with confidence: the modeling clays we sell are safe and meet strict compliance criteria (such as European standard EN71) . Make your purchases securely via your account, and one of our payment methods available online. Fast shipping (within 24 working hours), and the availability of our customer service are all assets that make us successful in the community of creative art enthusiasts.</p >
Any questions about baking dough for creative hobbies? We are here!
Would you like more information about the modeling clays offered by 123 Créa? Contact our creative arts experts in writing or by phone. We will be happy to answer your questions, even the most technical ones.