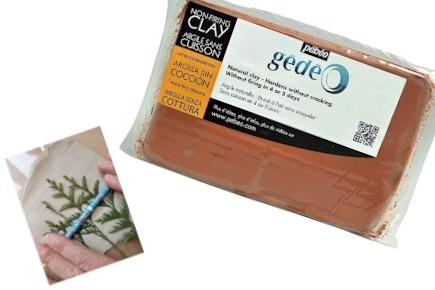 Gedeo clay
Pébéo clay is a self-hardening clay of good quality. It is recommended to knead the clay before starting work. Air dry after 4-5 days.
Instructions:
It is recommended to knead the clay before starting work.
If during processing the dough loses plasticity, to recover it, just slightly moisten your hands. Can also be cast (we recommend plaster moulds) and turned on a potter's wheel.
To join 2 pieces of clay together, scratch the parts to be joined with a spatula or a punch beforehand and moisten with a brush using a slip (clay mixed with beforehand with water until a liquid texture is obtained). In the case of joints in the form of an angle, reinforce the union with the help of a small roller of clay, extending it along the angle and then pressing and smoothing the union with a spatula.< /li>
To join 2 already dry pieces, use conventional glue. It is not recommended to join a dry part with a wet part since the joint will crack due to contraction during the drying of the wet part.
To smooth and polish surfaces obtaining a very clean finish, use a damp sponge. It is possible to achieve with optimal results, massive objects or very thin walls.
To create hollow objects, it is possible to use rigid or flexible supports.
Why order your modeling clay online at 123 Créa?
Buy with confidence at 123 Créa: the modeling clays we sell are safe and comply with strict compliance criteria (for example, European standard EN71) . Fast shipping and the great availability of our customer service are all assets that make us successful in the world of creative art enthusiasts.
Want more information? We are listening!
Contact the creative arts experts at 123 Créa in writing or by phone. They will be happy to answer your questions.