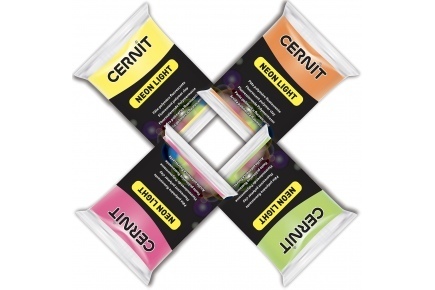 Cernit NEON
Cernit Neon clay is a polymer clay with fluorescent colors that react under the effect of UV lamps. Give a dose of pep to your creations thanks to its vitamin colors. Very fun and luminous result guaranteed!
Your creations in modeling clay with a fluorescent reflection?
Let your creative talents do the talking using Cernit Neon pastes! They are perfect for modeling and creating original jewelry, with a little touch of pep.
Your polymer clays are intended to be cooked. Put them 30 minutes in the oven between 110°C and 130°C after their modelling.
Your creations will behardenedbut retain someflexibility. This can be essential, for example, when making "open" shapes, such as bracelets. This feature makes your clay more practical than another modeling clay, FIMO type, which would break because it is stiffer.</p >
The benefits of Cernit Neon polymer clay
Discover the advantages of the Cernit brand for your massages:
Cernit paste does not stick to the fingers, which makes it easier to handle;
It doesn't leave streaks on your fingers, so you can switch from one color to another without washing your hands;
It is possible to obtain an even shinier finish, by polishing it after firing;
It comes in a range of 4 colours, so you can let your imagination run wild.
The Cernit Neon range is available in 56g bars.
Order your modeling clay online at 123 Créa
And buy with confidence: the modeling clays sold are safe and meet strict compliance criteria (such as European standard EN71). The shipping is fast and our customer service is very available.
Contact us
Do you want more information about the modeling clays offered by 123 Créa? Contact us in writing or by telephone. We are available to answer your questions.