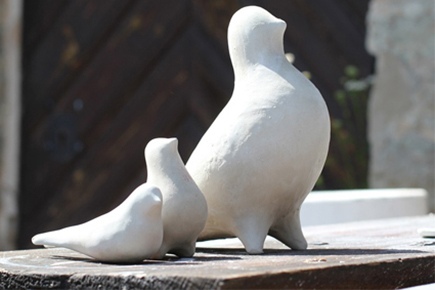 Self-hardening pastes
Self-hardening modeling clays are very homogeneous clays, easy to work with. They air dry. The objects made are solid and resistant. Discover them quickly!
An essential creative modeling clay
The self-hardening pastes dry in the open air, they have a great fineness of grain, which allows fine and detailed creations</ span>. They are light and easy to shape. They allow creations of all sizes. After complete drying (24 hours per centimeter of thickness), they will be completely hard and resistant. You can use them to make sculptures, and then decorate them with suitable paints and varnishes.
Unlike polymer clays, self-hardening clays remain sensitive to water. Achievements therefore cannot be submerged.
Its sparkling colors and great flexibility make it the ideal colored paste for children!
Its major strengths
No cooking, it hardens in the open air
Drying time: minimum 24h/cm of thickness
No shrinkage on drying,

no nasty crack surprises

Good adhesion to other materials

It works easily, without gloves
Why order your modeling clay online at 123 Créa?
Buy with confidence at 123 Créa: the modeling clays we sell are safe and comply with strict compliance criteria (for example, European standard EN71) . Fast shipping and the great availability of our customer service are all assets that make us successful in the world of creative art enthusiasts.
Want more information? We are listening!
Contact the creative arts experts at 123 Créa in writing or by phone. They will be happy to answer your questions.