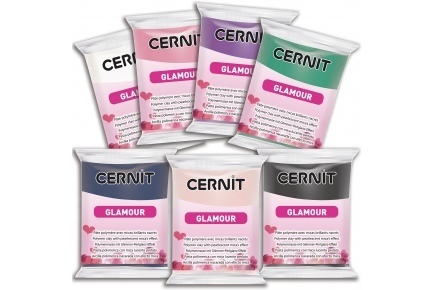 Cernit Glamour
Do you want to give a touch of refinement to your creations in modeling clay to cook? The Cernit Glamor range is made for you! With its pearly colors, it is rich in color. Choose from its palette of 7 tones rich in shine with a slight glitter effect.
How to use Cernit Glamor paste?
Refinement will have no more secrets for you! Amateur or confirmed creator, follower of manual activities or whether you like to tinker with your children, you will find pleasure in using the Glamor range of the brand of modeling clay Cernit.
All you have to do is bake your creations for 30 minutes at 130°C in a traditional oven.
Your creations will behard and remain flexible, which is not always the case with other polymer clays. This will be very useful when making "open" bracelets, for example. This paste is therefore more practical than others, like Fimo, more rigid, which would break.
What are the advantages of using Cernit modeling clay?
Whatever the type of creations (figurines, jewelry, decorative objects, ...), you will enjoy modeling them with Cernit clay:
Cernit paste does not stick to fingers or modeling tools;
It leaves no trace of color, no need to wash your hands to switch from one color to another;
A fired Cernit creation offers an extra shine after polishing;
Modelling pastes giving a very refined result;
The Cernit Glamor range is available in 7colours, available in 56g bars.
Why choose 123 Créa for your self-hardening modeling clay creations?
At 123 Créa, you buy with confidence: we sell safe modeling clay that meets strict compliance criteria (standard European standard EN71). Choose the desired references via your virtual basket. Access your secure account and make the payment via one of the means available on the site. Fast shipping and the great availability of our customer service are all assets that make us successful in the community of creative art enthusiasts.
A question about the use and cooking of Cernit modeling clay?
Do you want more information on the modeling clays sold by 123 Créa? Contact us in writing or by telephone. We will be happy to answer your questions.