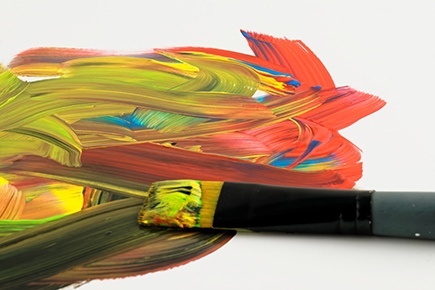 Paint and acrylic marker
Acrylic paint is a synthetic paint made up of pigments and a binder. Once applied and dried, it perfectly covers the support and can only be cleaned with a solvent.

The main qualities of acrylic paint
Acrylic paint dries very quickly, in a few minutes, which is appreciable when you have to work in several layers.
Acrylic paint is solid and indelible. It dilutes with water. Acrylic paints are miscible with each other and mix easily.
Acrylic paint is odorless.
How to use acrylic paint?
It is ready to use, you can use it alone. The advantage is that the acrylic is extra-covering.
It can also be mixed with a painting medium to give a shiny, pearly effect,...
It is also possible to mix it with water to make it less covering.
Instructions:
Pick up some paint on your brush or painting knife.
Lay it on your support (acrylic paper, canvas).
Need more information about acrylic paint?
Our team is at your disposal to answer your questions by email or by phone.