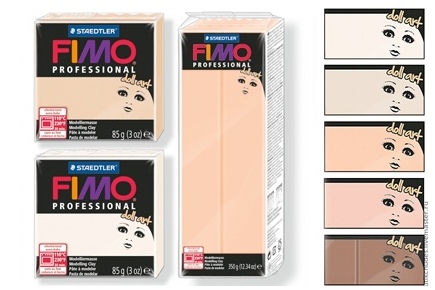 Fimo Pro Doll modeling clay
The polymer clay Fimo Pro Doll has been specially designed for the creation of dolls, figurines and other miniatures.
The 6 shades perfectly imitate different skin types. The pastes are miscible with each other, so nothing prevents you from mixing colors to create new ones!
Fimo clay is a polymer modeling clay, so it hardens by baking in the oven at 110-130) for 30 min. The Pro doll range has been designed to make dolls, faces, figurines, and all kinds of miniatures.
The advantages of Fimo Doll Art
The Fimo Doll Art range is perfect for creating dolls:
She is easy to model, so you will enjoy easily creating pretty pieces with the Fimo Doll
Its 6 shades perfectly imitate skin types
They are miscible with each other, so you can create new colors in no time at all!
The 85g loaves are pre-cut so you don't waste your dough
Model and sculpt your desires with the Fimo Pro Doll Art range!
How to cook Fimo Doll Art clay?
The dough is baked in a household oven at 130°C for 30 minutes.
Once cooked, your creation will be hard and resistant.
Attention, not suitable for the microwave oven!
Buy your Fimo Professionnal Doll Art paste on our online store and enjoy many advantages!
Free delivery from €59 of purchase
Secure online payment
A team of enthusiasts at your service
Quality products at the lowest price on the market
Order online at 123 Créa!