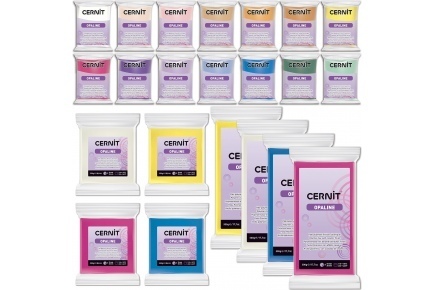 Pâte à modeler Cernit Porcelain
Discover the new range of Cernit Opaline polymer clay. A semi-translucent modeling clay that will allow you beautiful effects during your polymer clay creations.
Excellent quality dough!
How to use Cernit Opaline modeling clay?
There are many ways to use it, you will surely create your own techniques over time. Polymer clay is a clay used in creative hobbies but also in the creation of jewelry and figurines.
The dough is easy to shape and can be shaped both with the hands and with tools such as the tools, the pasta machine,…
Opaline polymer clay can be baked at 130°C for 20 minutes. It will then be hardened but still slightly flexible, which is what makes Cernit paste special. The dough is then hard and resistant with good flexibility.
Who is Opaline polymer clay intended for?
Opaline paste is intended for all audiences. It is suitable for amateur beginners, children from the age of 8 and professionals. The paste does not rub off on the fingers and does not stick. Which is appreciated by lovers of polymer clay.
What finish should I add to my creation?
Once your creation is baked, you can create a nice finish. To do so, several possibilities are available to you:
Varnish
Polishing
Details in acrylic paint
You will create quality jewelry or figurines. Indeed, the finishes will give a finished look to your creation.
Why order from 123 Créa?
Our priority is quality service. With us, you can order safely and peacefully quality products.
We offer you a secure payment platform with several possible payment methods. Shipping is fast and reliable.
We are available for information by phone or email.