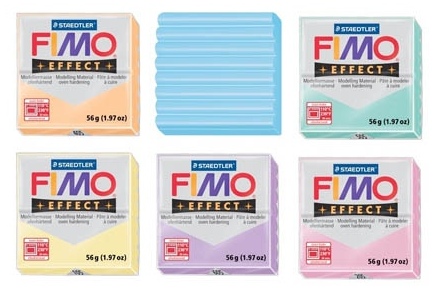 Fimo Effect
Do you make objects and figurines out of modeling clay to be baked? The Fimo Effect range allows many effects and finishes: pearlescent, glittery, translucent, metallic, imitation natural or precious stones,... Fimo effect clay is easy to work with thanks to its flexible texture.
The Fimo modeling clays meet all creative desires : colors, texture</strong >, … A range allows you to obtain specific shades and finishes, the Fimo Effect. It is suitable for the following original creations:
Modelling clay jewelry: rings, necklaces, pendants, brooches, …
Practical accessories : magnets, key rings, etc.
Figures;
Various decorative items;
Pearls.
How to get effects on modeling clay?
A whole panoply of effects can be obtained thanks to the Fimo Effect range. Discover the different made possible:
Translucent effect (various colors are available);
Glitter effect;
Pearl effect;
Imitation stone;
Imitation marble;
Metallic effect (silver, copper, …) ;
Glow-in-the-dark effect;
Imitation of precious stones: gold, quartz, jade, …
Etc.
More than 40 references make up the Fimo Effect range. They come in the form of 57 g bread, portioned into 7 equal parts.
The dough is worked by hand, in order to beheated and made more flexible. Depending on your preference and the desired texture, you can place your raw material near a heat source before using it, or on the contrary, in the refrigerator .
The Fimo Effect clay is very easy to work with. Its texture is flexible, like that of Fimo Soft modeling clay. It is suitable for both creative beginners and children (from 8 years old).
How to cook your Fimo Effect paste?
Fimo polymer clays, whatever the range used, require the same type of cooking to harden:
Lay out your figurines on a sheet of parchment paper or a silicone support;
Place the insulating support on a baking sheet;
Bake your creations in the oven heated to 110°C for 30 minutes;
Let your decorative items cool before handling them.
You get a strong and water-resistant object. These characteristics are durable, even if you have mixed Fimo pastes with different textures.
Do not leave a child alone to bake polymer clay. An adult must supervise putting in the oven and taking it out.
Fimo clay storage tips
After use, close your opened sachet of Fimo Effect paste and place it in an airtight container. The material will retain its properties over the long term.
A wide choice of Fimo Effect pastes on the 123 Créa website
Order online your baking modeling clays, as well as the accessories that will allow you to make original creations. Select the desired references using your virtual basket. Log in to your customer account and take advantage of many secure payment methods. We ship your package of modeling clay free of charge from 59 € of purchase. For any questions regarding your current order, please complete our online contact form. The 123 Créa team is available to answer you as soon as possible.