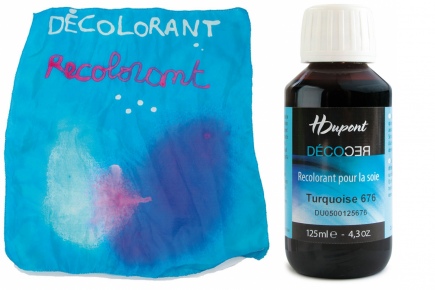 H Dupont Deco Reco silk paint
Want to bleach and recolor your animal fiber fabrics in one step? It's possible with Déco Reco by H Dupont!
Colors formulated with acid dyes, the Deco Reco range has a very high resistance to bleach or bleach.
To be used on animal fibers, this product (in combination with the bleach and the thickener) allows the realization of surprising effects.
Allows you to bleach certain areas on silk before recoloring them with another color.
Use
For a stencil application
Mix 20ml of pure bleach with 80ml of thickener
For application by sprayer, dropper, etc.
Mix 20ml of pure bleach with 80ml of demineralised water
On the H Dupont Classic color
Apply the bleaching mixture to an area, the fabric will turn white at the place of application.
Bleach and recolor silk at the same time
Mix 2 parts bleaching mix with 1 part Deco Reco color and admire the result.
The Deco Reco color takes the place of the existing color that has been removed by the bleaching mix.
And then…?
Wait for complete drying after application. Then, steam your fabric.
The result will only be visible after steaming and washing!