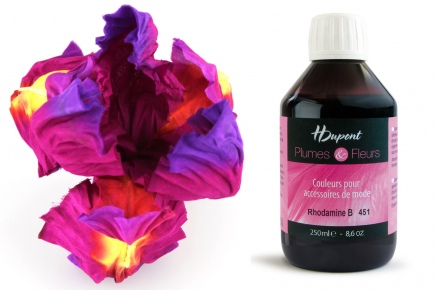 H Dupont Plumes & Fleurs soie Dyes
Plumes et Fleurs by H Dupont are dyes for fashion accessories: feathers, brooches, flowers…
Initially, the Plumes & Fleurs de H Dupont was marketed for the dyeing of feathers intended for the great cabarets of Paris.
Currently, you will use it to dye your animal or vegetable fiber fashion accessories (brooches, feathers, flowers, etc.).
Try it also to dye < strong>silk, velvet or viscose.
The colors bleed heavily, which is why we recommend using them mainly for dyeing.
These dyes require fixing in an oven or dye bath (if your accessories allow it).
Available in 250ml.