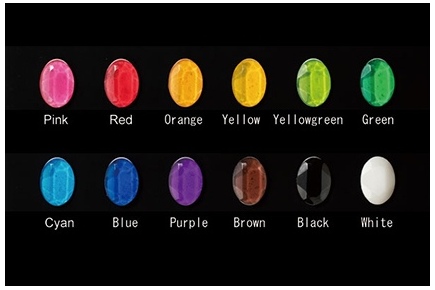 Padico Jewel Color liquid coloring
Padico Jewel Color is a concentrated liquid colorant created to color your transparent resins (UV), but not only…
You can also color your other resins.
Discover quickly the beautiful range of colors offered by Padico.
Padico invented the Padico Jewel Color to dye your transparent resins (UV). You can also use it to color your other 2-component resins.
Jewel Color will allow you to imitate the colors of precious stones.
Easy
Since the Jewel Color dye is liquid, it will be easy for you to mix it with your liquid resin in order to give it a beautiful coloring.
A few drops are enough to color your resin while keeping its transparency.
To get a dark color, just put more dye in your resin.
The bottle of Jewel Color liquid dye is practical and will allow you to precisely dose the amount of color you want.
The colors are intermixable. This gives you a wide range of hues to create.
Sold in a 10ml bottle.
Any info?
Feel free to contact our team.